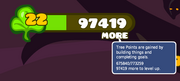 There are currently 30 levels in JollyWood. Level 30 is the maximum level. Each level will unlock special items such as connectors and facilities, quests, maximum zest points, build units and tree space.
To level up, players must obtain a certain number of tree points. Tree points can be gained by building things, completing quests, and doing many other actions within the game.
The bar showing the number of tree points and player's level is the green bar on the top right hand corner of the screen. Hovering over the "MORE" word will show your progress for the current level and how many tree points you needs to earn before the next level.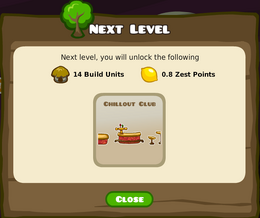 Clicking on "MORE" brings player to a pop-up, stating the items, build units, and additional zest points that can be unlocked at the next level.
Level
Points Required
Build Units Unlocked
Maximum Zest Point
Zest Points Unlocked
Items Unlocked
1
0
6
0.5
2
6
6
0.5
3
15
6
0.6
4
69
9
0.5
5
223
10
0.6
6
627
11
0.5

Sturdy Spiral Slide
Walled Platform (M)

7
1515
11
0.6
8
3174
11
0.6
9
5883
11
0.6
10
10244
11
0.6
11
17,796
12
0.6

Makky's Balancer
Kittie's Ziggitty Zaggitty

12
27,827
12
0.6
13
41,568
12
0.6
14
59,832
12
0.7
15
16
17
18
219,693
13
70.1
0.7
19
290,337
70.8
20
21
22
23
773,259
14
73.8
0.8
24
969,087
15
74.6
0.8
25
1,197,746
14
0.8
26
27
28
29
30